If you're looking to upgrade the interior of your Olde Town Arvada real estate in a fun, stylish way, go for the mid-century modern design look. The mid-century modern (MCM) style of interior décor was popular during the post-World War II era, beginning in 1945 and running roughly through the end of the 1960s. It has been described as being timeless, which is why it still works all these decades later.
The mid-century modern design features furniture and décor with clean, sleek lines that looked futuristic and sophisticated back then and still do today. It is usually highly functional and surprisingly simple.
If you were a fan of the AMC series "Mad Men" that ran from 2007-2015, then you know exactly what the mid-century modern design look entails, in both interior décor and fashion. The series was set in 1960s New York and the various sets, whether they were homes or the office, captured the mid-century modern look. Mid-century modern has also been popularized elsewhere in pop culture, making it desirable by people of all ages, including young people who are first-time buyers of Olde Town Arvada homes for sale.
Another factor that helps make mid-century modern popular today is that baby boomers who were born in the years after World War II grew up with that style of furniture in their homes. Furnishing their houses now in that style brings back fond memories and in a way lets them relive their youth.
There have been homes built in the mid-century modern design. You probably don't have the budget to do a full remodel, but you can find ways to incorporate mid-century modern design in your Olde Town Arvada real estate. Keep reading to learn how.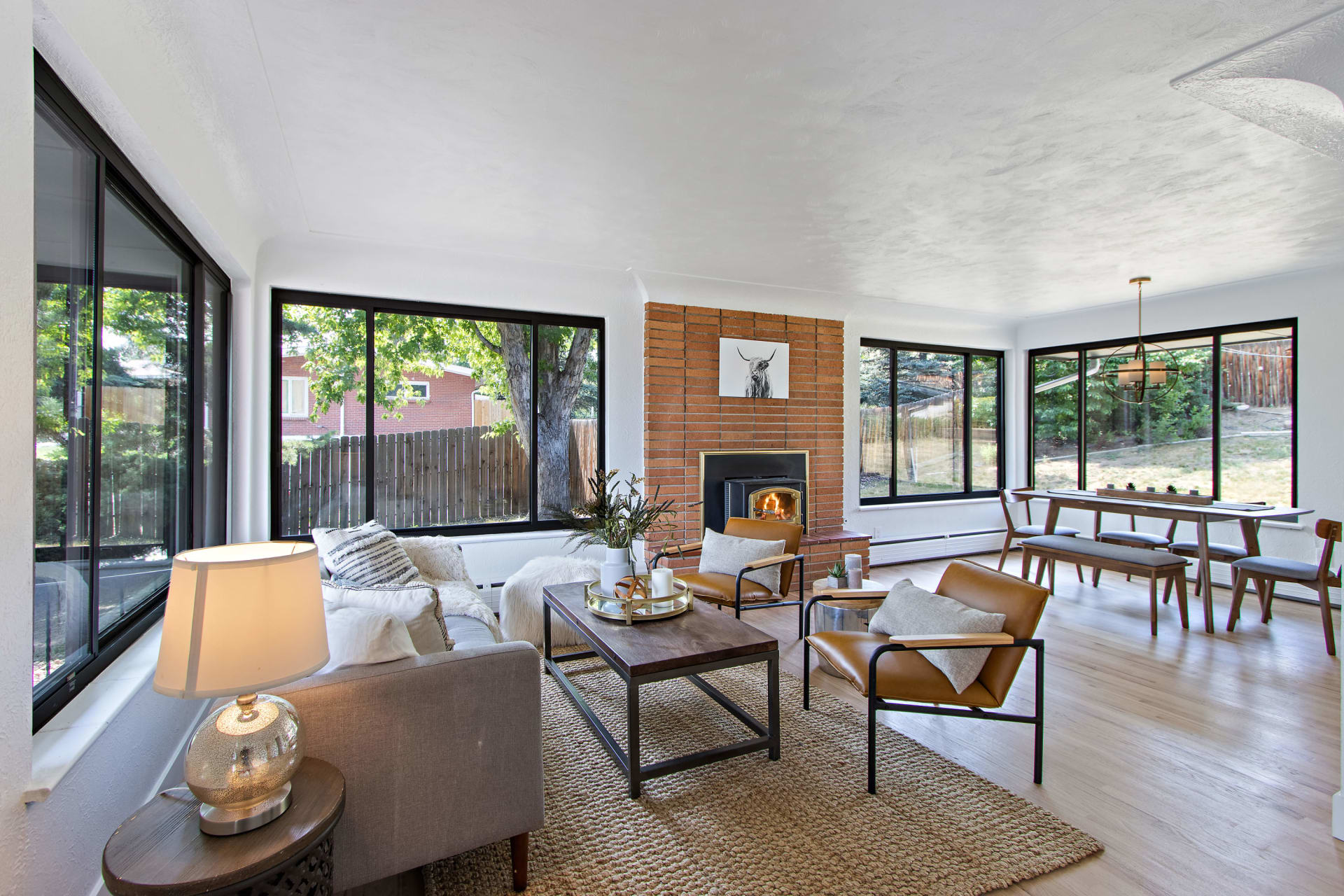 Start With Furniture
To achieve the full effect of the mid-century modern look, shop for vintage furniture or authentic re-creations. The look of mid-century modern includes furniture with thin legs, or peg legs, and clean, straight lines. Interior decorators suggest shopping at thrift stores, flea markets, and estate sales to find some true vintage furniture from that era. If you strike out with that approach, research manufacturers who are producing various lines based on the mid-century modern look.
Start with one piece and build from there, whether it's a couch, coffee table, a side table or two, armchair, or an absolute classic, an entertainment console. As your budget permits, add more and more pieces to complete the look. You can start in the living room and continue by decorating the master bedroom and home office in this style.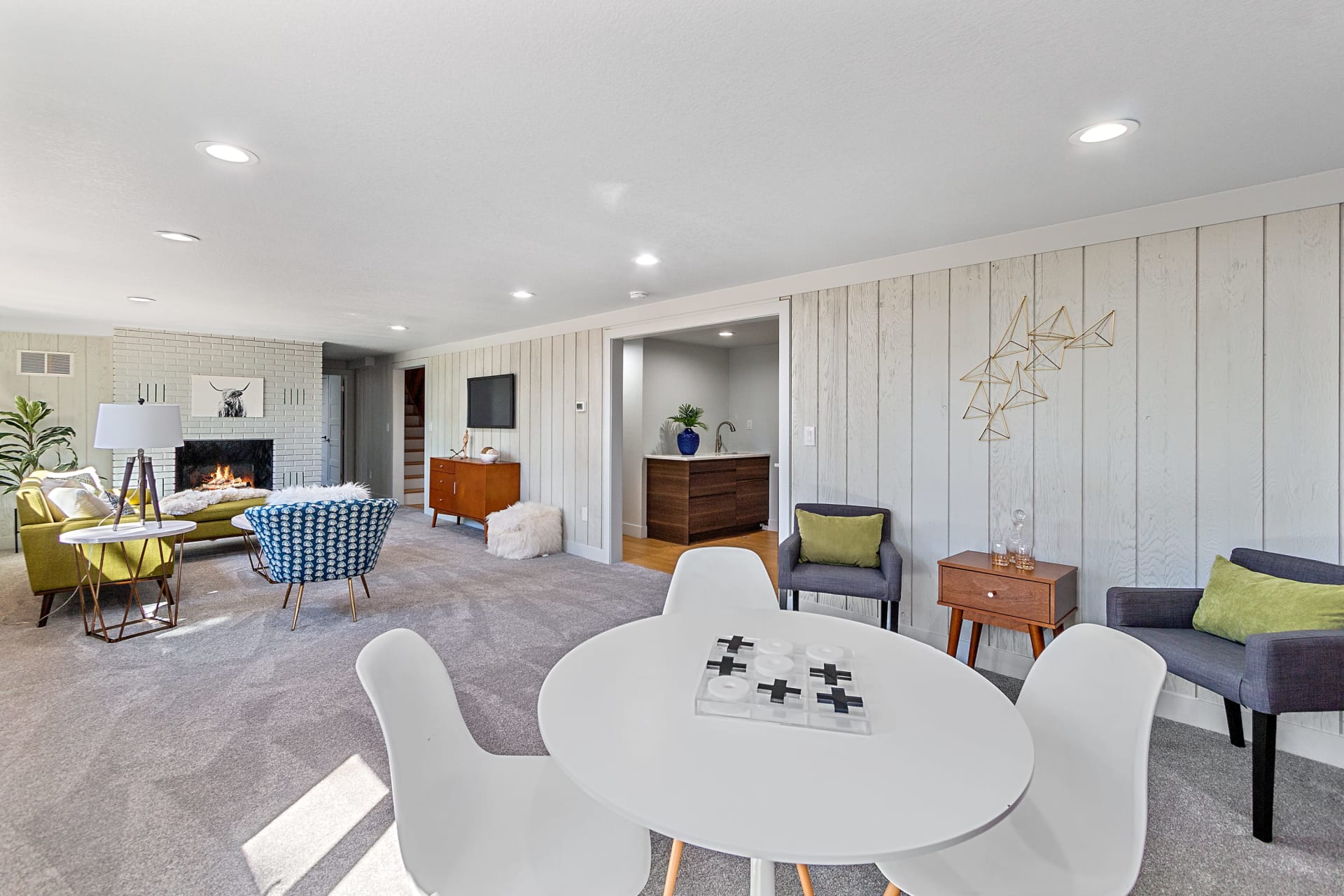 Focus on Lighting
Once you're well on your way to joining the ranks of mid-century modern homes in Olde Town Arvada, turn your focus to lighting in that style. Again, start with one bold fixture to be the main focus, whether it's a table lamp, chandelier, or pendant lighting. As you add light fixtures to assure proper illumination in each room, don't worry about pieces matching. That simply wasn't a concern back when the style was flourishing, and you shouldn't need to worry about it now. It's all part of the look. Wall sconces are also very popular pieces. Again, scour second-hand stores and other off-the-wall shops for lighting fixtures. If you strike out, you can find many mid-century modern styles online.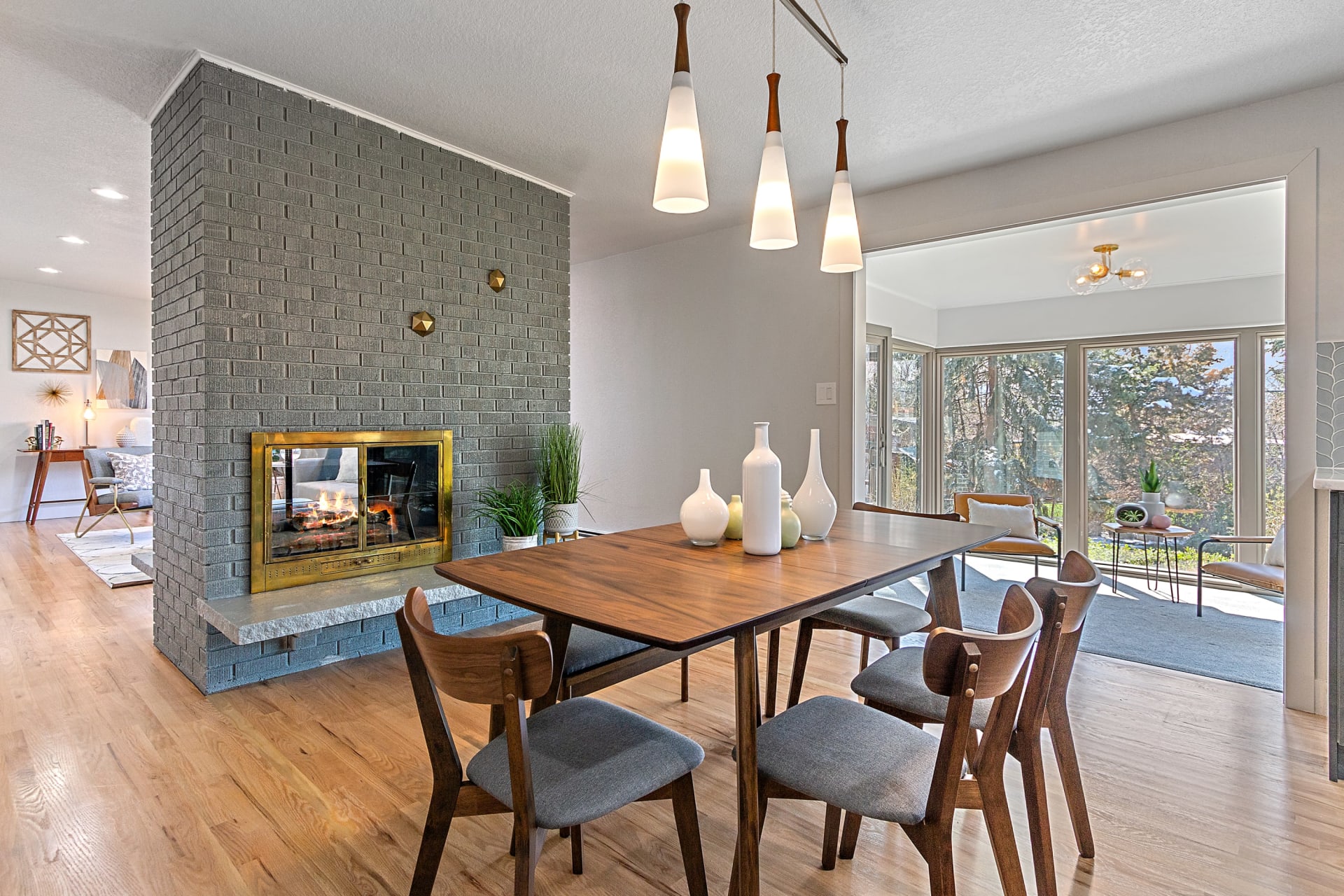 Wall Hangings
Another strong mid-century modern design element is a mirror or other wall hangings. A stylish mirror will not only look good on your wall, but it will help reflect light and make the room appear bigger than it actually is. A real conversation piece would be a sunburst mirror like the ones that were popular in the 1950s and '60s.
There are many other kinds of wall hangings available in the mid-century modern look, including abstract art, vivid photographs, and pieces with textures and different shapes, including asymmetrical. You can shop for vintage pieces or find modern interpretations.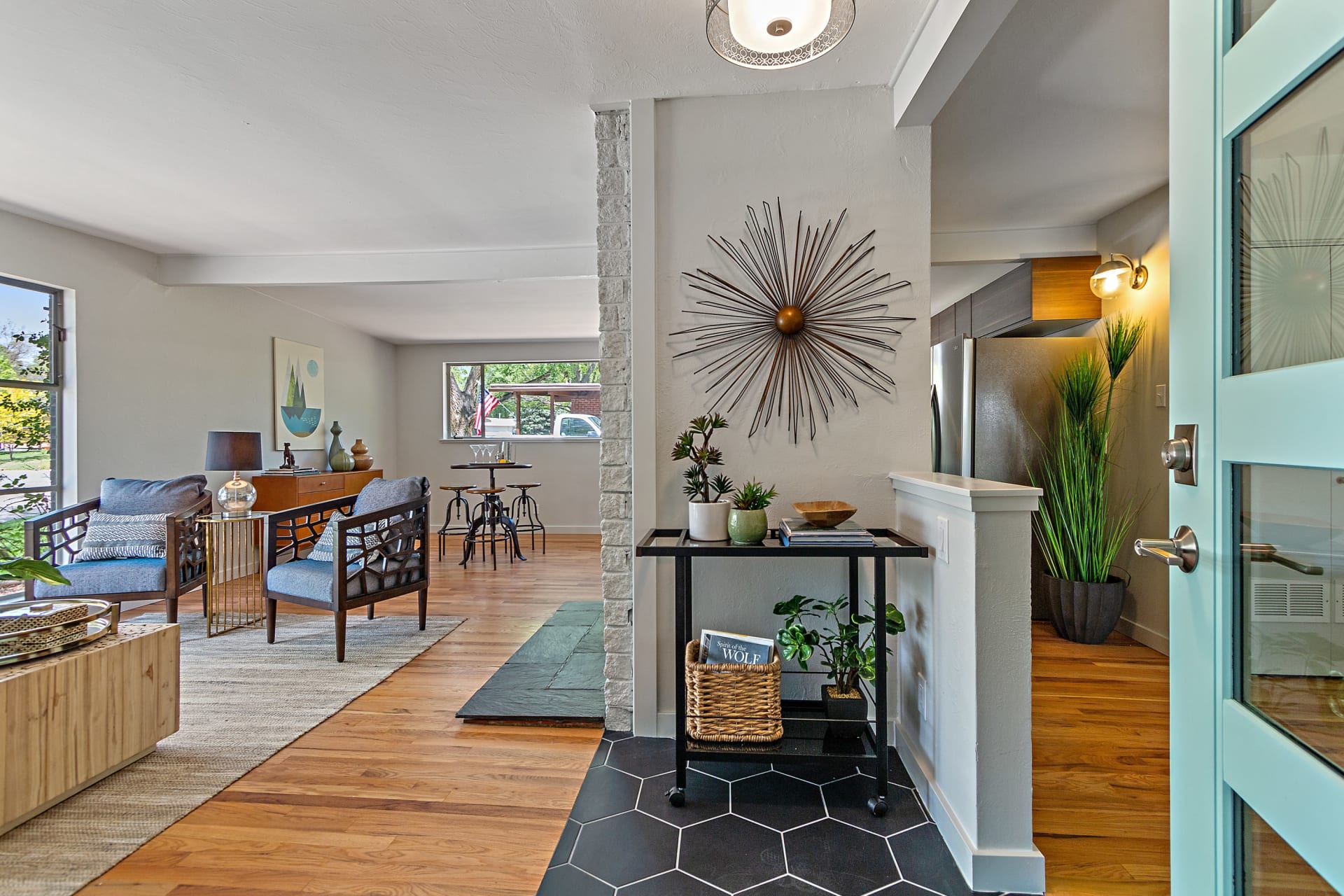 Color
While patterned walls certainly are part of the mid-century modern design style, so are walls simply painted white. That's how things were back then, and it's making a comeback now. In fact, when preparing Old Town Arvada homes for sale, you'd paint the interior in white anyway, so why not do it now? White works so well with mid-century modern because it helps put the focus on the furniture and décor. This might be the easiest and cheapest aspect of attaining the mid-century modern look!
Use Color Accents
Don't be afraid to go big and bold with one piece of décor in each room, whether it's a colorful wall hanging or a couch that stands out in a hue that was popular in the '50s or '60s.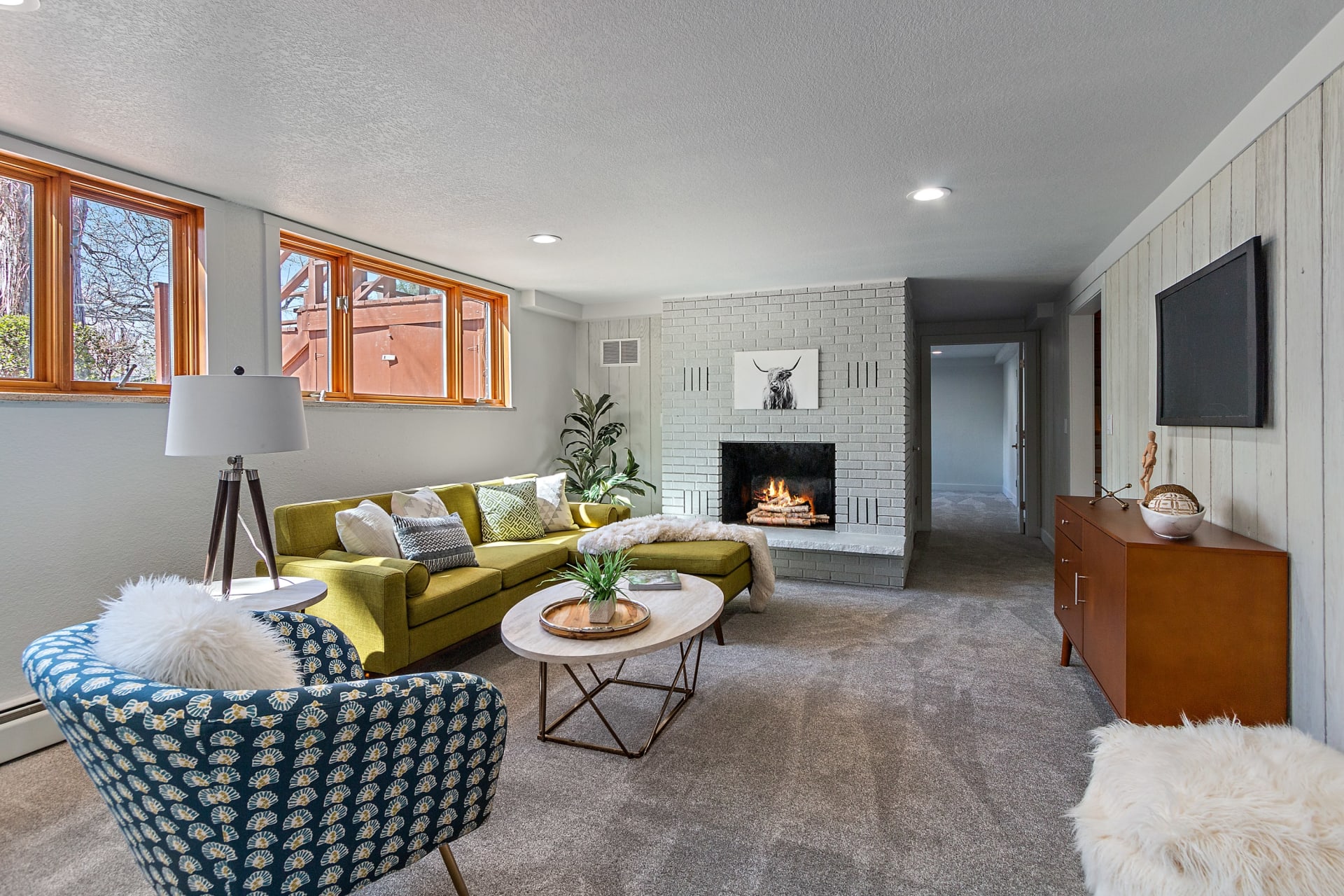 Go With Wood
Among the authentic looks of the mid-century modern design movement is real wood that is used in furnishings, including end tables, chairs, and consoles. These popular woods include oak, walnut, and teak. Pieces made of real wood are high quality and are more aesthetically pleasing than other materials.
Make Room For a Bar
For a real blast from the past while hosting parties at mid-century modern homes in Olde Town Arvada, build a bar into your home or buy a bar cart to truly evoke the feeling and spirit of the mid-century modern movement. Stock your bar with a cocktail shaker, decanters full of fine liquor, and vintage glasses. You and your guests can get the sense of the era that is celebrated in "Mad Men" and even the James Bond films, which also hail from that era.
There are other elements of mid-century modern that you can easily incorporate into your home, depending on your personal taste and budget. For the best results in buying or selling Olde Town Arvada real estate in 2021, contact The Phipps Team for assistance.