Centered around Olde Town Plaza in Arvada, Colorado, Olde Town is a quaint area with several great restaurants and eateries to check out. Whether a resident of the area or a wandering visitor, try checking out these great outdoor eateries!
Lady Nomada
A newcomer to Olde Town Arvada as of summer 2021, Lady Nomada has a fantastic outdoor space perfect for drinking and dining any time of year. The menu is made up of shareable small plates ($10 to $15), snacks ($5 to $9) and larger entrees ($18 to $25) such as fried snapper with Baja Veracruz sauce, olives and mint; grilled St. Louis ribs with tamarind BBQ sauce; various fajitas; and posole verde, which is made with littleneck clams, pulled pork, hominy and cilantro, and served with corn tortillas. Other options include the taqueria menu. Priced between $11 and $14 for two hefty tacos that are certainly enough for a filling meal for one. There are also tacos made with pork carnitas, honey-grilled shrimp, tempura fish — aka the Baja fish – and birria!
And of course if you're having tacos, you can't skip the margaritas, and theirs are a must-try! For other cocktail offerings, they have everything from classic palomas to signature options like the Olde Town, with silver tequila, the Mexican herb damiana, grenadine and lime; the Laua Rose with reposado, Aperol, pineapple, grenadine and lime; and the Oaxacan Sunset, a take on a traditional tequila sunrise, but with added mezcal and hibiscus. There are also a few beers and wine on the menu.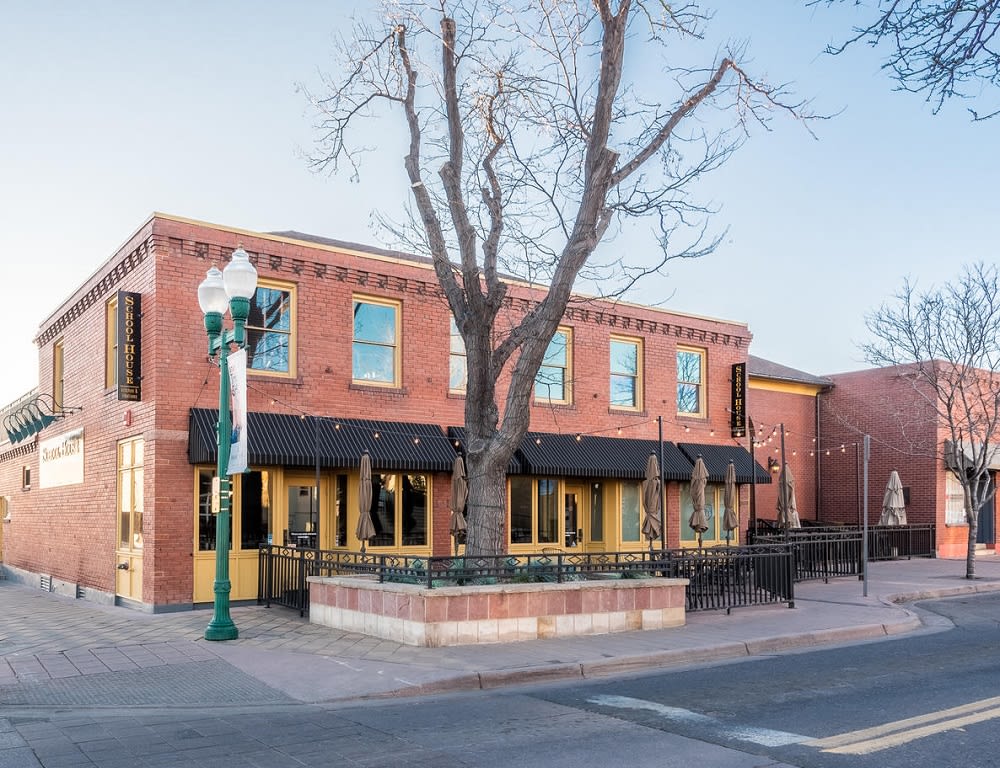 School House Kitchen & Libations
Housed within an 1882 schoolhouse, School House Kitchen and Libations is a charming bistro and saloon known for carrying over 1,400 whiskeys. Aside from having one of the largest whiskey menus in the country, this establishment is known for its food choices that take inspiration from several regions in the United States. School House Kitchen and Libations features two different outdoor seating possibilities, including an outdoor patio and rooftop seating. Open for lunch and dinner throughout the week, this local favorite is also open for weekend brunch from 10am to 3pm.
Homegrown Tap & Dough – Arvada
Homegrown Tap & Dough is a popular Italian restaurant located on the corner of the two main business drags of Olde Town. With a rustic exterior and ski-themed interior, Homegrown Tap & Dough blends notes of Italy and Colorado in both setting and cuisine. As its name suggests, this restaurant has a focus on wood-fired pizzas and quality beers, while pasta, wings, and burgers are also quite popular. With seasonal outdoor seating, Homegrown Tap & Dough is a wonderful Colorado twist on Italian favorites.
Smokin' Fins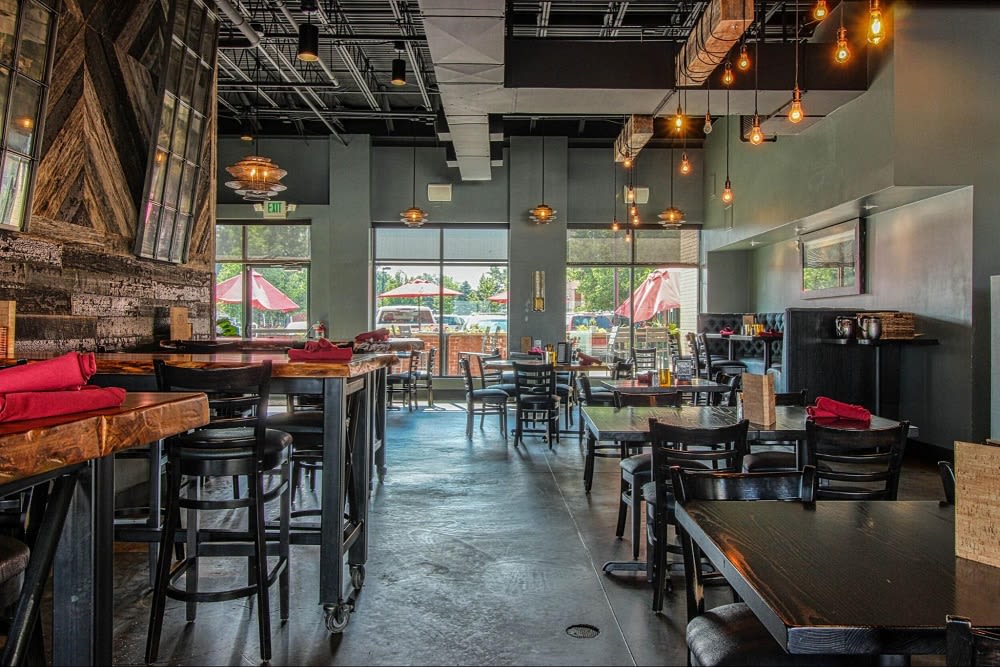 Photo courtesy of smokinfinsrestaurant.com
Smokin' Fins features a unique menu that blends ocean fresh seafood, sushi and house smoked specialties. An Olde Town Arvada favorite, some of our go-to menu items are their shareable plates of pork shank wings, Key lime calamari, and lobster tater tots; and you can never go wrong with one of their popular sushi rolls, steak and seafood tacos or poke bowls. There are plenty of options for any palette, including heartier entrees like the baked lobster mac and cheese, the Berkshire pork osso buco or seafood paella. Hit up the back-patio
The first location of Smokin' Fins was opened in Littleton, Colorado in 2015, and to no one's surprise, their popularity quickly grew. It all started "with a dream to serve the best seafood you could find in a landlocked state," and they've now expanded to six locations, including out-of-state options in Chandler, Arizona and Boise, Idaho.
La Dolce Vita
A popular coffee shop noted for both its great selection of coffees as well as its delicious breakfast items and sandwiches, La Dolce Vita has a relaxed and charming vibe to it. Opened in the heart of Olde Town by a local family in 1993, La Dolce Vita offers friendly service, high-end coffee, and a welcoming environment. With limited outdoor seating and long business hours, this coffee shop is the perfect stop for a quick bite to eat at any time of day. La Dolce Vita also offers live music on the weekends, as well as open-mic nights and other fun events.
The Arvada Tavern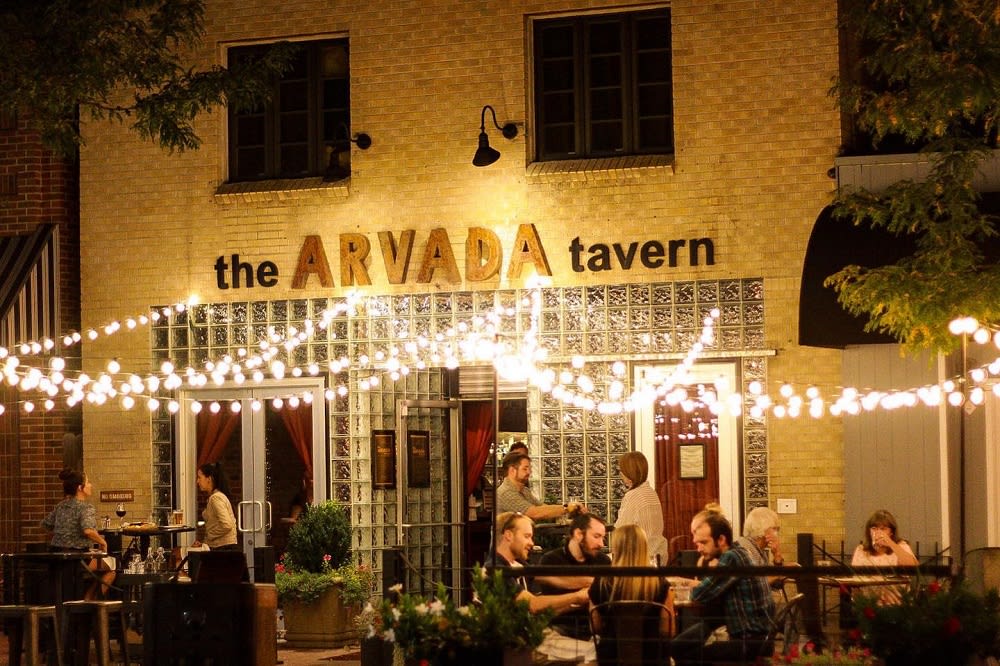 Photo courtesy of The Arvada Tavern
The Arvada Tavern has been slinging cocktails since the end of prohibition! On April 7th, 1933, the town of Arvada issued their first Tavern license to then-owner Adrian Kline. This allowed the legal sale of alcohol to the public within the town limits of Arvada – for the first time in history! Although the tavern changed hands a few times over the years, it's stayed true to its roots throughout. Current owners Mike Huggins and Lenka Juchelkova have put an emphasis on mixology, making many syrups, bitters, and tonics from scratch. They specialize in pre-Prohibition style cocktails that put America into the spotlight before 1920.
Arvada Tavern offers diverse seasonal and classic fine American fare. Try out The Arvada Burger or European style Chicken Schnitzel, both of which are two local favorites. On the lighter side, there are seasonal salads and multiple meal-worthy appetizers. One of their staple items is the Rocky Mountain Oysters – a must-try for visitors who have never tried this classic Colorado food.
New Image Restaurant and Brewery
With an industrial-inspired space, New Image Restaurant and Brewery is a great place to find American bar foods alongside draft beers, cocktails, and a small rotating menu of guest beverages. New Image's restaurant serves bar favorites such as nachos, burgers, and sandwiches, as well as vegetarian options such as salads and veggie burgers. New Image Restaurant and Brewery features a heated patio perfect for any season.
If you are considering a move to Arvada and want to have great access to these popular restaurants, contact Robyn Phipps of The Phipps Team. With a vast knowledge of the area and homes for sale in Olde Town Arvada, The Phipps Team will be able to help you find the perfect home in the neighborhood. Contact Robyn Phipps today to begin your search for Olde Town Arvada real estate!