As expected, the Denver real estate market in August continued the downward trend in active listings, pendings and sold listings, average sold price, as well as sold to list price; additionally, we saw the average days in MLS increase from July's numbers. In Denver, the market in August typically slows down due to kids headed back to school and summer soon coming to a close. However, prices in August are still up 8.4% for detached single family homes, and 3.6% year over year. For homes between $400,000-$800,000 nearly 50% of these transactions reported paying seller concessions, which we are definitely seeing, as we continue to have success in negotiation for our buyers over the past few months. For Denver home sellers, the overwhelming majority of concessions were reportedly paid towards buyer closing costs, buyer credits or incentives and seller points paid.

Rising interest rates and uncertainty in the financial markets continue to be a concern for Denver home buyers, but it's important to remember, you aren't locked into a high rate permanently - you can potentially refinance later when rates go down depending on the market and your home's value, buy down your rate - or negotiate a seller paid buy down rather than a reduction in sales price. A "rate buy down" gives borrowers lower interest rates in exchange for higher fees or "discount points" paid up front (when they close). One point or 1% of the loan amount typically buys a rate down by about 1/4%. Seller-paid rate buy downs are can be a "win-win" for both the buyers and sellers, as it saves buyers money in the long run with lower monthly payments, saves the seller money because it's typically less to buy down a rate than the amount of most price reductions, and helps hold home values in the area.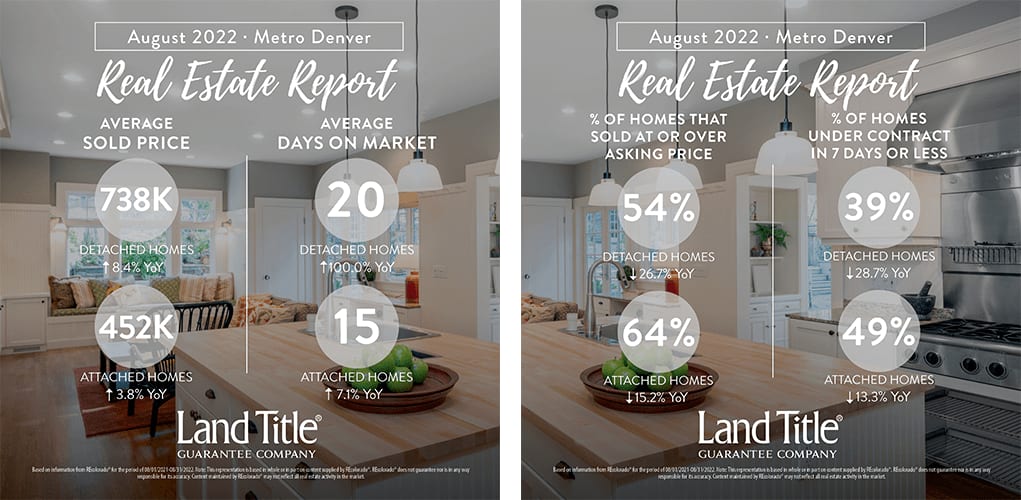 With all of this data in mind, it's important to note that we aren't quite in a buyer's market, but are transitioning from one of the hottest seller's markets on record in Denver, to a cooler seller's market. For sellers, regardless of this dip in the market, homeowners still have record-setting amounts of equity in their homes - at 58% on average, and the odds of selling still remain incredibly high at all price ranges. Your home WILL sell, it just may take a little bit longer than a single weekend to go under contract. Pricing your home correctly is the best way to ensure your home will go fast and for the highest amount possible!

Whether you're looking to buy or sell this fall, The Phipps Team's expertise and market knowledge can help you reach your goals. Connect with us today and let's talk about your future plans!